Medeco Locks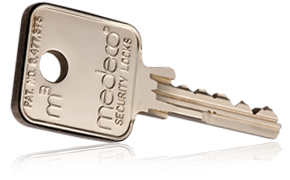 (815) 963-0495
MEDECO LOCKS AND KEYS
TAKE CONTROL OF YOUR FACILITY
RESTRICTED KEYS WITH SIGNATURE AUTHORIZATION
KEYS NO OTHER LOCKSMITH / HARDWARE STORE CAN DUPLICATE
PROFESSIONAL INSTALLATION / 40 YEARS OF EXPERIENCE
FAST FREE ESTIMATES / SECURITY SURVEYS
5 STAR AFTER THE SALE SUPPORT
TRUST THE PROS SINCE 1905


M. Spinello and Son Locksmiths / Safe / and Security Experts is your source for Medeco Locks, Medeco key cylinders and Medeco restricted keys. We are the authorized dealer for all of northern Illinois and southern Wisconsin. We can provide new Medeco locks and key cylinders, service and repair existing Medeco locks as well.
By upgrading your facility's lock cylinders to Medeco restricted lock cylinders, you increase the level of security for your facility. These keys are licensed exclusively to M. Spinello & Son. That means no other locksmith, hardware store, home improvement store or any other company can duplicate the keys to your facility. We provide an initial key duplication authorization form when your new restricted locks have been installed and that is returned to us. If a person is not listed on the key duplication authorization form, we will not duplicate the restricted key. No phone calls, no discussion!
Most of our restricted key cylinders integrate with your existing lock hardware and make it very easy to convert your facility's traditional lock cylinders to our restricted key system.
Are you having trouble getting service, having problems with your existing lock company, are you receiving poor locksmith service or getting tired of being overcharged by other area locksmiths? We also provide special pricing to convert your existing Medeco locks, keys and cylinders to our patented Medeco Keymark lock cylinders.



Pay a one-time conversion hardware fee and switch over to our Medeco locks and keys and you are guaranteed to professional, prompt, and courteous service from a reputable and reliable locksmith company. We service the Rockford IL, Loves Park IL, Machesney Park, IL and surrounding areas



Free on-site estimates. Call us today! (815) 963-0495