Family History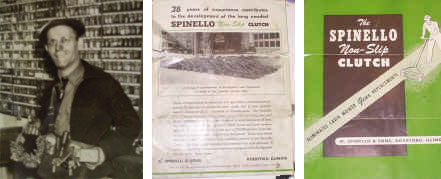 Matt Spinello Sr. opened up his first lock shop in Kansas City, MO in 1905. Matt Spinello Sr., an inventive individual, was issued patents in the 1920's for a set of scales, cigar lighter, a device for controlling elevators, a non slip clutch for push lawn mowers, and a new type of lock. He moved to Rockford in 1921 and opened up a lock shop.

Knowing the importance of providing mobile service, he was often seen riding around in his first service vehicle, a motorcycle with sidecar. He purchased his first pick up truck and began to make service calls in the Rockford area.

At one time, M. Spinello Lock Safe Security Experts were as much involved with lawnmowers and repairing guns as they were with locks. Old photographs show rows of push mowers in front of the store awaiting sharpening as well as photos of the guns they repaired. But locks and locksmithing were Matt Sr.'s passion.

Matt Spinello Sr. became increasingly busy with his new business added his son Joseph to assist with the family business. Joseph quickly learned the tricks of the trade from his father and became "famous" in the city as Rockford's "keyman" and master locksmith as he matured in the industry.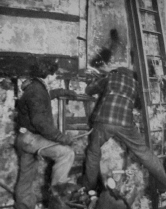 Matt Spinello Sr. retired from the business in the 1950's, Joseph took over the business. Joseph's brother-in-laws Frank and Jo Jo Fasula were added to the work crew. The Master Locksmith, Joseph Spinello, taught them the trade. Frank Fasula and Jo Jo Fasula specialized in "safe cracking". They were two of the best "safe crackers" in the world. They are pictured here "cracking a safe" in the downtown area in the 1950's.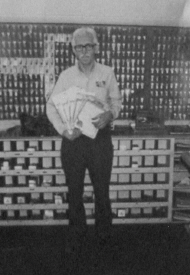 Joe Spinello was always proud of his father's accomplishments and hard work. He was always willing to show off his father's patents that are, to this day, locked up in a safe. Here he displays his father's numerous patents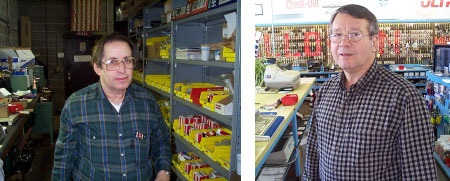 Joseph's son Matt and son-in-law James R. White took over the company in the late 70's. Matt Spinello worked as an outside technician and Jim White took over the company as operations manager.

M. Spinello and Son have had our share of adversity throughout the years. Competition in a large metropolitan city is difficult in itself. However, M. Spinello and Son also had to overcome the obstacle of another Lock and Safe Company with the same Spinello name. From the start, M. Spinello and Son has had to distinguish ourselves from the other lock company. You will see our advertisements stating we are not connected or affiliated with any other Spinello lock shop at our one downtown location storefront at 522 Chestnut St. as well as being displayed on our large mobile fleet as well as . The
Don't Get Fooled! Get The Original Spinello! Remember the "M"
Campaign
was launched in 2015.We believe our past and prospective customers have and will experience the difference between the two companies. Both in our prices and the products and services we provide!

Our mobile service fleet grew from a motorcycle with sidecar to six fully dispatched fully stocked mobile workshops. We even spent additional money on the fleets exterior blue, white, and orange paint schemes and graphics to distinguish ourselves. Instead of one color, hand lettered vehicles; we went to a three-color paint scheme with graphics and the renowned Spinello logo. These vehicles are also our mobile billboards. M. Spinello emphasizes the importance of being able to handle the immediate needs of their walk in customers by stocking more products and adding employees. "Sometimes, our competitors actually refer their customers to us," said Matthew F. Spinello, Co-Owner with Jimi White. We now employ ten full time employees.

Another challenge M. Spinello and Son we faced was the growing security industry. Large, national, chain hardware stores, and local and national security companies infiltrated the Rockford and surrounding area. Providing just lock and safe service just wasn't enough. We added security cameras. HD security cameras, video surveillance systems, card access control systems, electrical locks and electrci strikes, keyless entry locks, intercom entry systems, and other new age security products and services. We are also careful to provide the same quality service with these new products as we did when we serviced push mowers and guns. These newer services were essential to the growth and prosperity of our business. We research the security industry and add new products and services as they become available.

Our downtown storefront at 522 Chestnut St. proudly displays our great grandfather's and grandfather's portraits. We have developed a trust from generation to generation. Family members now represent over fifty percent of the work force including great grandson's Jimi White, Matthew Spinello, and Nancy White, Jimi's wife.
M. Spinello and Son now services over 30,000 residential, commercial, industrial, and municipal accounts. The name M. Spinello and Son is still synonymous with quality service and affordable locksmith and security products in northern Illinois for over a century.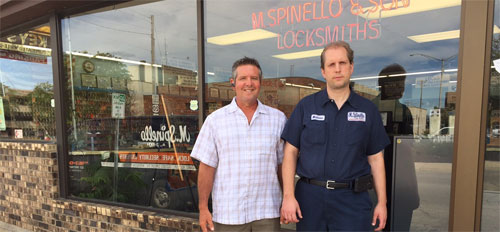 "I remember one time a boy about five years old came in," said Joseph Spinello who passed away in 1996." He asked me how much it was to make a key for an old padlock. I told him the first key was a dollar the second key was twenty five cents." The boy said, 'I'll take the second one, and Joseph charged him twenty-five cents.
"That's how we try to treat our customers. "Just like our great grandfather and grandfather" say great grandsons and owners Jimi White and Matthew Spinello. "Not only has the business been handed down, but so has the heart, craftsmanship, knowledge, and philosophies. We think our great grandfather and grandfather would be proud of us."