Set Up A Service Call Now
(815) 963-0495
THIS SERVICE CALL FORM IS FOR NON-EMERGENCY SERVICE CALLS!
IF THIS IS AN EMERGENCY SERVICE CALL, PLEASE CALL (815) 963-0495
To set up a service call to your home or business, please provide your:
Name
Address
City, State, Zip
Best Contact Phone Number
Email Address
Brief description of what you are needing.
ASK US ABOUT OUR HD VIDEO SURVEILLANCE SYSTEMS
WITH NO MONTHLY FEES!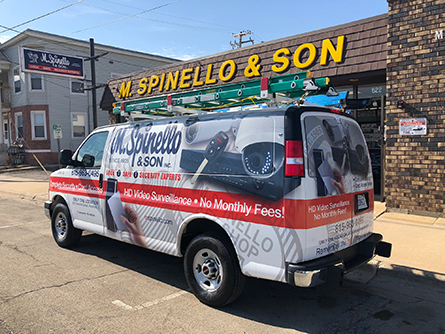 Our
HELP DESK
will contact you on the same day during regular business hours from 8 am to 5 pm to get further details and set up your service call. Please allow 24-48 hours for a response after regular business hours.
DON'T GET FOOLED! GET THE ORIGINAL SPINELLO! M. Spinello and Son, Inc. is not affiliated or connected with any other
Spinello lock Company
. We have only one location, Downtown at 522 Chestnut Street Rockford, IL 61102 Since 1905. Remember the M! Business Hours: Monday- Friday 8 AM - 5 PM.
(815) 963-0495