Wireless Locks
Rockford IL Loves Park IL Machesney Park IL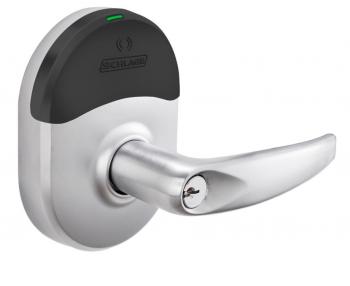 (815) 963-0495
RESIDENTIAL AND COMMERCIAL WIRELESS LOCKS
WIRELESS DEADBOLT LOCKS
WI-FI LOCKS THAT WORK WITH SMART PHONES
WIRELESS LOCKS THAT WORK WITH HOME AUTOMATION
PROFESSIONAL INSTALLATION / 36 YEARS EXPERIENCE
FAST FREE ESTIMATES / SECURITY SURVEYS
5 STAR AFTER THE SALE SUPPORT
TRUST THE PROS SINCE 1905


M. Spinello and Son Locksmiths / Safe and Security Experts are an authorized dealer and installer of all types of wireless locks for residential and commercial customers. We offer residential wireless WI-FI locks and commercial Schlage NDE Series wireless locks with ENGAGE™ technology.
The new Schlage® NDE Series wireless lock with ENGAGE™ technology is designed to be easy to connect, manage and use. These NDE Engage locks have been developed specifically for facilities that want to upgrade to electronic access control cards or fobs for improved security and efficiency.
These Schlage Engage NDE locks are ideal for interior and exterior applications, common area doors and sensitive storage spaces and other restricted access areas. We provide complete and professional installations of the Schlage NDE Engage wireless locks as well as lock programming and customer training of the wireless lock systems.We are an authorized and certified NDE Engage dealer and installer located in Rockford, IL serving Loves Park, Machesney Park, and Surrounding areas as well.

Quick facts about Schlage NDE Series and ENGAGE:
ENGAGE™ is a connectivity platform that simplifies the ability to connect people and openings to deliver cost effective intelligence and efficiency to any facility.
Conveniently retrofits into standard door lever or door knob prep.
Compatible with proximity cards or fobs as well as aptiQ™ and aptiQmobile™ smart credentials
Free cloud-based ENGAGE™ mobile and web apps make it simple to configure lock settings, add users, and view audits and alerts from anywhere in the world.
For added features and benefits, the NDE Series wireless lock can be managed with software provide from M. Spinello and Son Locksmiths, A factory authorized Allegion partner.
We can integrate Wireless Elevator control with your wireless locks as well for the complete wireless solution!
Complete Wireless Access Control Systems Installations
Our residential wireless locks and wireless deadbolts work with smart-phones and WI-FI. They also work with home automation systems you may already have in place. Upgrade your homes existing locks with wireless deadbolt locks and unlock your door from anywhere in the world.
Call M. Spinello and Son Locksmiths / Safe / Security Experts today and GO WIRELESS! We provide free estimates.

Free Estimates. Call us today! (815) 963-0495