Lock Types
Complete Lock Repairs and Replacement Locks
Rockford, Loves Park, Machesney Park, IL
Call us today! (815) 963-0495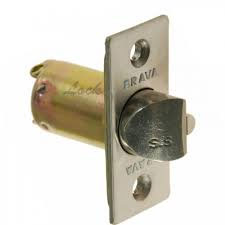 This page is designed to determine the brand of lock that you need installed or repaired. If you are interested in matching existing locks at your home or business so they are keyed alike, we must determine the brand of lock you want us to match. If you do not know, look at the edge of your door where the door latch or deadbolt is. The name of the lock manufacturer is usually stamped as shown above.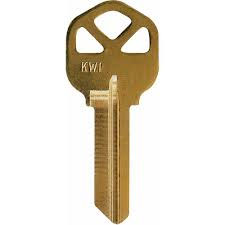 You can also look at your existing key to determine what brand of lock you have installed. Usually there is numbers and or letters on your key. We may ask you to look at your key so we can determine what brand of lock you have that needs to be replaced or installed.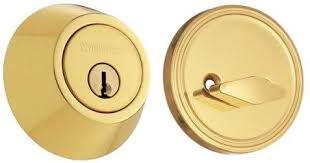 Single Cylinder Deadbolt
A single cylinder deadbolt with a 1" bolt is intended to reduce the potential for kicking in a door jamb or "jimmying" a lock from the outside. This lock has a thumb turn on the inside to operate the bolt.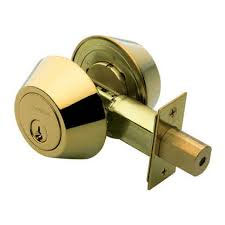 Double Cylinder Deadbolts
A double cylinder with a 1" bolt is intended to reduce the potential for kicking in a door jamb or "jimmying" a lock from the outside. This lock has a key on both sides of the lock. These double cylinder deadbolts are used when there is a window adjacent to the actual door. These deadbolts prevent individuals on the outside from breaking the glass and opening the door. Care must be taken when double cylinder deadbolts are locked from the inside while you are in your residence. A key must be left accessible to open the door in case of fire or emergency.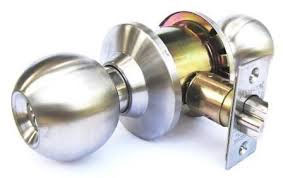 Entrance Function Lock (Knob)
An Entrance Function Lock-Set would be used on doors that you need to lock. A key must be used from the outside and usually a turn button locks the door from the inside.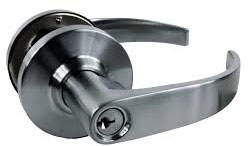 Leverset
A Lever-set is an L shaped handle used for handicapped entrances and other areas where it is much easier to grasp the lever than turn a knob. Lever-sets also come in the Functions listed above. Most facilities are converting all of their existing door knobs to levers to meet ADA requirements.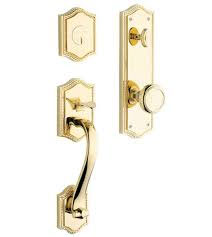 Entrance Handle Set With Thumb latch
Entrance Handle Sets are usually used on the front door to a home. It combines decorative looks available in many finishes. A large handle with thumb latch and a separate deadbolt above the handle make up an Entrance Handle Set.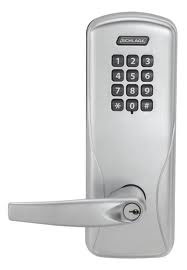 Push Button Lock
A push button lock eliminates the use of a key. Combination locks have numbered push-buttons that, when used in the correct sequence, perform the same operation as a key by unlocking the door. Combinations can be changed at any time by the owner.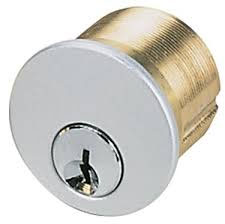 Mortise Cylinders
Mortise Cylinders are cylinders used in of Mortise Lock-sets. They are threaded cylinders that screw into the mortise housing and are held in place by a set screw.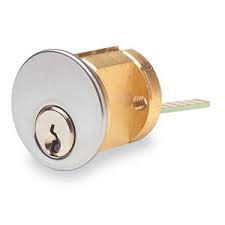 Rim Cylinder
A Rim Cylinder is a cylinder used in panic exit device hardware, or overhead doors. Unlike the mortise cylinder, this cylinder is secured in place by two screws and a mounting plate from the inside of the door.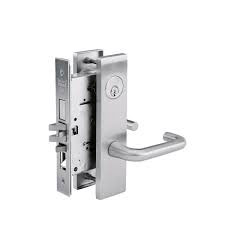 Mortise Lock-sets
Mortise Lock-sets are locks that are actually installed inside of the actual door itself. The body, or case of the lock is encased inside of the door, and the mortise cylinder, thumb turn knob and handle are on the outside.

Panic Bar Exit Device
Panic Exit Hardware Devices are usually used on fire exit doors or main exit doors where a large number can exit a door without hesitation. A bar protrudes from the door and when the bar is pushed, the door opens and allows egress.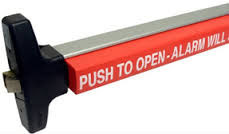 Fire Exit Devices
Fire Exit Devices are used on fire exits doors, not main exit doors. An alarm on this device sounds when the door is opened. These devices control traffic flow through the main exit doors. These devices are most commonly used in fast food restaurants, and other rear door applications where exiting is to be controlled.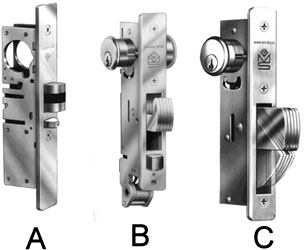 Narrow Stile Adams Rite Locks
Narrow Style Adams Rite Locks are used on aluminum frame, glass storefront doors.
Figure A is an Adams Rite Latch Lock. This type of lock has a latch that automatically springs in and out of the door.
Figure B is a Adams Rite Hook Bolt Lock. The bolt hooks on to either another door, or into the door frame.
Figure C is an Adams Rite Bolt Lock. It is different from a latch lock. A bolt flips up to lock the door.