Church Security
Rockford IL Loves Park IL Machesney Park IL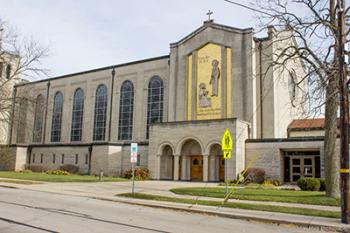 (815) 963-0495
NO MONTHLY FEES

OR LONG TERM CONTRACTS EVER!
CALL US FOR AN ON-SITE SECURITY ACCESSMENT
CUSTOMER REFERENCES PROVIDED UPON REQUEST
COMPLETE CHURCH AND RELIGIOUS SECURITY
HD VIDEO SURVEILLANCE / MOTION DETECTION RECORDING
LIVE VIDEO MONITORING ON ANY SMART PHONE
AUDIO VIDEO INTERCOM ENTRY SYSTEMS
CARD ACCESS SYSTEMS / UNLOCK DOORS W/ CARDS OR FOBS
RESTRICTED " DO NOT DUPLICATE" KEY SYSTEMS
5 STAR AFTER THE SALE SUPPORT
MONEY DROP / DEPOSITORY SAFES FOR CHURCH COLLECTIONS
TRUST THE PROS SINCE 1905
MAKE SURE YOU ALWAYS HIRE A LICENSED SECURITY PROFESSIONAL IL. LICENSE # 192-000144



WE ARE THE THE AREA'S NUMBER ONE CHURCH SECURITY COMPANY


M. Spinello and Son Locksmith Safe Security Experts is the leader in northern Illinois for church security serving Rockford IL, Loves Park IL, Machesney Park IL, and surrounding areas. We are the area's number one church security company in Rockford IL hands down.
CHURCH HD VIDEO SURVEILLANCE SYSTEMS
We provide free of charge on-site security surveys and determine the best strategy to secure your church and religious facility security. We can provide solutions for locking all exterior doors, provide HD video surveillance systems and security cameras for exterior doors, provide motion detection recording to preserve all activity outside of the facility, offer live video monitoring of all of your security cameras with no monthly fees. Our church security cameras and church video surveillance systems are reliable, affordable and professionally installed!
CHURCH AUDIO VIDEO INTERCOM SYSTEMS
We also provide hard wired or wireless intercom entry systems for your church or religious facility where you can lock your exterior doors and confirm entry with audio intercoms or audio video intercoms. You can talk to or see who is at your door, verify that the visitor can come in and unlock your door all with the push of a button. This is an ideal way to control access to your church or religious facility.
CHURCH CARD ACCESS SYSTEMS
Our card access control systems for churchEs allows you to have all staff and employees us key cards or fobs to enter the building. You can program different users to come in at different times and at different doors. This allows you to lock down your facility but provide quick access to the doors for staff and employees. These systems also keep track of who comes in the doors and at what time. All of the programming is done through card access software. If you lose and employee or staff member, you can simply delete them from your access system. No more re-keying locks and distributing keys.
CHURCH RESTRICTED " DO NOT DUPLICATE KEY" SYSTEMS
Our restricted "do not duplicate " key systems allow you to take control of your facility by making sure no past staff members or employees have keys to your facility. Once we replace your exterior locks, new restricted keys are distributed and no other company in the world can duplicate your keys except M. Spinello and Son. We provide a signature card to administrators which is filled out and returned to us. If your staff member or employee is not on the signature card, we refuse to duplicate any additional keys.
CHURCH DEPOSITORY CASH AND MONEY SAFES AND INSTALLATION
Our church money drop / depository cah and money safes secure your weekly collections. We provide the appropriate size safes to accomodate your weekly collections. We can install your safe by bolting it down so the safe cannot be removed. We offer all sizes of church depository safes with double key locks, manual combination dials or electronic safe locks for quick access. We also offer double door church depository safes where you can deposit money into the top safe and transfer to another compartment restricting access to the lower compartment.
OTHER CHURCH SECURITY SYSTEMS / CHURCH ADA DOOR OPERATORS
We also provide new locks hardware, panic crash bars, ADA door operators, exit fire alarm devices and more for your church.
Please give us a call and we can provide an on-site security accessment for your church and provide and itemized proposal to you. We provide touchless ADA switches to prevent the spread of coronavirus / COVID-19
FAMILY OWNED AND OPERATED SINCE 1905
We are family owned and operated since 1905 and provide same day responses for any issues you may have with your church security system. Call the Pro Church Security Company Today!
COMPLETE CHURCH SECURITY
We provide church security for catholic, baptist, christian, methodist, lutheran, presbyterian, protestant, pentecostal, episcopal, mormon, congergational, evangelical, jehovah's witness, church of god, seventh day adventist, orthodox, church of the nazarene, desciples of christ, apostolic, new apostolic, quaker, fundamentalist, born again churches and more.
(815) 963-0495