Cloud Video Surveillance Systems
Rockford IL Loves Park IL Machesney Park IL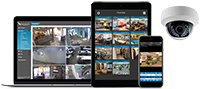 (815) 963-0495
CLOUD VIDEO SURVEILLANCE SYSTEMS
RELIABLE OFF-SITE HD VIDEO CLOUD STORAGE
100% RELIABLE ALL IN ONE SOLUTION
EASY TO USE / PRE-CONFIGURED
THE MOST AFFORDABLE CLOUD STORAGE SOLUTIONS
5 STAR AFTER THE SALE SUPPORT
ALL EMPLOYEES BACKGROUND CHECKED
TRUST THE PROS SINCE 1905
MAKE SURE YOU ALWAYS HIRE A LICENSED SECURITY PROFESSIONAL IL. LICENSE # 192-000144


M. Spinello and Son Locksmiths / Safe / Security Experts now provides the industry's leading cloud video surveillance systems and solutions and off-site DVR cloud HD video storage. This reliable off-site cloud based video surveillance storage allows our customers to protect their video surveillance HD video by using a CMVR (Cloud Management Video Recorder) for both on-site and off-site video storage or a video surveillance bridge solely for off-site cloud video storage.
Protect your HD security video footage in case of theft of your on-site existing digital video recorder.
We provide the complete cloud storage solution. We offer a wide array of tools ranging from high-resolution cameras to sturdy bridges, switches, cabling, power supplies, cloud management video recorder, and the cloud video storage as well. All cloud management video storage cloud solutions are customized to your facility, for both equipment and the cloud storage needed.
No need to use your own expensive over priced cloud storage.
M. Spinello and Son's affordable cloud video storage solutions are the most affordable solution in the industry!
We provide 100% cloud management, 100% mobile access for real time HD camera viewing as well as 100% web browser viewing, and if you want – 100% cloud recording. Architected from the ground up to be all cloud all the time. You can click and add a camera at any time you choose. You can click and change how long you keep your recordings. Its ready to go when you are. Pay only for what you need. It eliminates all the headaches of traditional systems. No software to buy and install, no license keys, and no operating system to maintain.
Easy to use and pre-configured.

We are the industry-leading provider of cloud-based video surveillance solutions. Our cloud based video storage solutions provide on-premises recording, top-of-line HD security cameras, and bank-level security and encryption tools. These cloud based video storage solutions allow us to provide our clients with best-in-class equipment so you never miss out on any critical events happening in your facility ever!
Whether you need only 6 security cameras up to 180 security cameras, we have all the tools you need to ensure absolute security of your off-site HD video recordings at all times.
Our based video surveillance systems mean no more upgrading your digital video recorder or network video recorder. All cloud equipment is updated automatically unlike non-cloud based systems where the digital video recorder or network video recorder become obsolete.
Call the Cloud Based HD Video System Solution Experts First!
(815) 963-0495