Digital Directories
Rockford IL Loves Park IL Machesney Park IL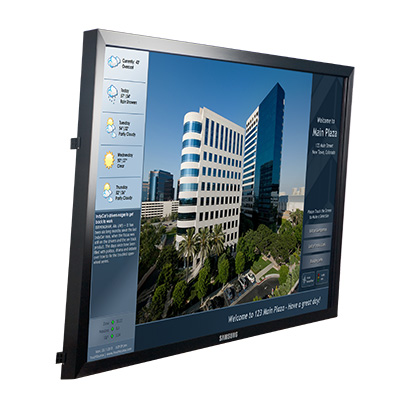 (815) 963-0495

HD DIGITAL DIRECTORIES FOR OFFICE BUILDINGS AND OFFICE BUILDINGS
STATIC OR TOUCH SCREEN MODELS AVAILABLE
EASY TO USE AND UPDATE WITH SOFTWARE
HIGH QUALITY STAINLESS STEEL ENCLOSURES
WALL MOUNTED
AVAILABLE FOR MULTIPLE INDUSTRIES
INCLUDE YOUR BRANDING / LOGO/ PHOTO OF YOUR FACILITY
INTEGRATE NEWS/ SPORTS/ WEATHER HEADLINES AS WELL
PROFESSIONAL INSTALLATION / 36 YEARS OF EXPERIENCE
FAST FREE ESTIMATES /5 STAR AFTER THE SALE SUPPORT


M. Spinello & Son can provide you with the right digital directory equipment for hospitals and medical building way-finding solutions, shopping mall display kiosks, commercial real estate buildings, multi-tenant facilities, educational facilities, nursing homes, office buildings and more. Our digital directory solutions are both attractive and functional.
M. Spinello & Son specializes in state of the art digital directory technology. Our wall-mounted digital directory systems that are ideal for all types of applications.
Our most popular enclosure-style digital building directory has a sleek design that mounts easily to any wall. Like all of our enclosures, it is designed to be fully ADA compliant. Available in standard brushed stainless steel or a wide range of powder coat paint finishes, the attractive digital directory option is an ideal way to display information in a professional setting.
The high-quality stainless steel enclosures are designed to last for years, and their unique rounded side edging provides a sleek, sophisticated look with no visible seams.
Our digital building directories are easy to use and simple to update when you need to make changes. The plug-and-play design means all of our digital directories are pre-configured with your information for tenants
M. Spinello & Son's digital building directories feature front access to all components for the simplification of both installation and service. We've thought about how to save you time and effort, and woven that into our smart interface to make thing as easy as possible.
M. Spinello & Son's digital directories allow you to update your directory from the office computer at your convenience. No more waiting weeks or months for someone else to update the old-fashioned directories, and no more expensive charges for a few name strips or changing your directory letter by letter. We've eliminated the stress of our customers trying to meet the demands of your high-volume turnover tenants that expect the new names to be added immediately. You're in complete control.
Customize your user experience by selecting your digital directory from sizes that range from 22 to 75 inches. This allows you to include all the content you need to make sure you're getting your viewer what they are searching for on the display.
All of our 1920 by 1080P HD monitors are crystal clear, featuring a high-resolution LED flat panel display. They are available in either portrait or landscape orientation, and can be ordered with or without touch screen capability
Update your system to include the latest in technology so you can service your patients, customers, and others to the very best of your ability. Present information as clearly and cleanly as possible, and update listings, images, and video, anytime.
You can also provide us with a logo, branding, photo of your facility and more so we can customized your digital directory for your facility. We can also include things like headline news in real-time, pulled from the world's most respected sources, news feed featuring the top stories in sports, business, finance and entertainment for the day. Display local weather and 5 day forecasts and sports headlines as well.
Our facility maps include zoom capabilities, helping your customers focus in on exactly where they would like to go in your facility. Give your visitors the best possible experience. Our unique way finding technology guides users through your facility on every scale. Animated pathways are also available from directory location to the destination guide the way and can even be taken with users on their smart phone.
Communicate with your visitors using the world's most popular social media platforms. Instantly display Twitter feeds for announcements, public information and greetings.
Other features we can include on your digital directory are:
Area Amenities
Way-Finding
Virtual Receptionist
Donor Boards
Calendar of Events
Honors Walls
TV Channels
Stock Prices
Multi-Languages
Marketing Boards
M. Spinello & Son creates and provides digital directory turnkey packages customized for every type of facility. We handle software, hardware, and installation. Power up your digital directory and your digital directory is up and running.
M. Spinello & Son provides complete support of your digital directory with our easy updating software and US-based phone support team.
We offer extended hardware warranties to protect your investment through high volume use for years to come.
Call the digital directory pros today for a free estimate.
(815) 963-0495