Facial Recognition Camera Systems Rockford IL
Facial Recognition Camera Systems Rockford IL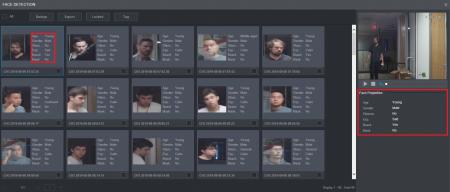 (815) 963-0495

NO MONTHLY FEES OR LONG TERM CONTRACTS EVER!
Trust Rockford's #1 Security Team
Over 40 years of experience

FACIAL RECOGNITION CAMERA SYSTEMS
REALTIME FACIAL RECOGNITION
INTELLIGENT HUMAN FACIAL FEATURE EXTRACTION
ON-SITE DEMOS
CUSTOM FACIAL RECOGNITION SOLUTIONS
PROFESSIONAL INSTALLATION
FAST DETAILED FREE ESTIMATES
QUICK TURN AROUND TIMES
5 STAR AFTER THE SALE SUPPORT
ALL EMPLOYEES BACKGROUND CHECKED
TRUST ROCKFORD'S #1 SECURITY TEAM SINCE1905
MAKE SURE YOU ALWAYS HIRE A LICENSED SECURITY PROFESSIONAL IL. LICENSE # 192-000144

MORE 5 STAR GOOGLE BUSINESS REVIEWS THAN
ANY OTHER COMPANY IN NORTHERN ILLINOIS
(SEE BELOW)



M. Spinello and Son Lock Safe Security Experts is the leader in professional facial recognition security camera systems and facial recognition video surveillance systems for commercial, industrial and municipal customers in Rockford IL, Loves Park IL, Machesney Park IL and surrounding areas in northern Illinois. Our facial detection and facial recognition security camera systems feature:

Artificial Intelligence at the edge – performing complex real-time facial recognition technology and facial feature comparison without the need for an external database. Our facial recogntion cameras feature an advanced vision processor unit (VPU) that delivers high-performance machine vision and visual awareness that enables advanced vision applications that are impossible with conventional ISPs.
The VPU, coupled with deep learning technology, allows the camera to enhance target faces to extract and categorize various features, including age, gender, expression, and whether the target face wears glasses or sports facial hair.
Our facial recognition camera systems and facial recognition camera system technology and facial recogntion equipment includes human facial feature extraction, real-time facial snapshots, and supports a database of up to 10,000 face images and five (5) libraries. The facial recognition feature enables a pro-active way to identify persons of interest before an incident occurs. This recogntion camera system technology is ideal for applications that require entrance/exit management, where knowing who is coming and going is a valuable asset. We offer the complete solution including facial detection security cameras, facial detection video servers, facial detection software and more. We provide the complete facial detection solution!

M. Spinello & Son aims to deliver intelligent video system analytics for increased efficiency, reduced costs and to improve safety. Video analytic algorithms use metadata to add sense and structure to a scene. This helps the camera understand what it's seeing so it can send an alert when a rule is broken or threat is present. Additionally, video footage can be retrieved instantly versus combing through hours of stored data so an operator or authorities can act faster.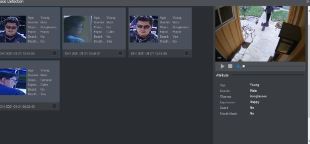 Face detection is used to detect whether a face has appeared in a video feed. It has the ability to detect that there is a person in the line of sight of a security camera; however, it is unable to recognize the person. It uses video analytics to detect the shape of a face; specifically, the space between the eyes. Once a face is detected, the camera automatically sends a snapshot to the NVR.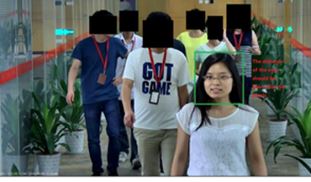 Face Attribute Extraction
AI Video Analytics is an important enabler to help improve levels of security. For example, time is of the essence when a video security system captures an incident such as a kidnapping or bank robbery in real-time. The ability to search the scene for people with the characteristics of the assailant could save valuable time in finding and apprehending the suspect.
With various characteristics in the form of metadata, cameras can provide information about a person's face such as if they have facial hair, glasses, age, gender, expression or if they are wearing a mask.
Captures faces, compares to stored images, and produces match statistics.
Extracts six attributes and eight expressions (Happy, Calm, Surprise, Sad, Rage) from a face capture.
Offers face enhancement, face exposure, and a face angle filter for clear facial images.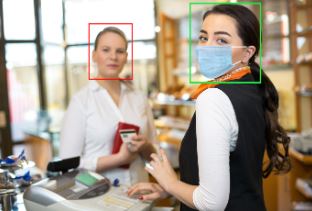 Face Mask Detection
As businesses and organizations adapt to the changing environment in and around their facilities due to the pandemic, the number one thing on their mind is keeping employees and customers safe. As a result, wearing a mask has been adopted as a safety measure in many workplaces. Therefore, cameras with
face mask detection
have the ability to detect a face and then check for the presence of a face mask. If a mask is not present, the camera will issue a built-in message alerting a person to use a mask. If you do not like the pre-recorded option, it has the ability to customize your own message.
Call the facial detection camera system pros today for more information and a free on-site demo and estimate on our facial detection and facial recognition camera systems and equipment today!

(815) 963-0495


Call the facial recogniton camera system pros today for more information and a free on-site demo and estimate on our facial recognition camera systems and equipment today!

Since 1905! Providing results not promises!

(815) 963-0495