Mobile Phone Intercom Systems Rockford IL
Mobile Phone Intercom Systems Rockford IL Loves Park IL Machesney Park IL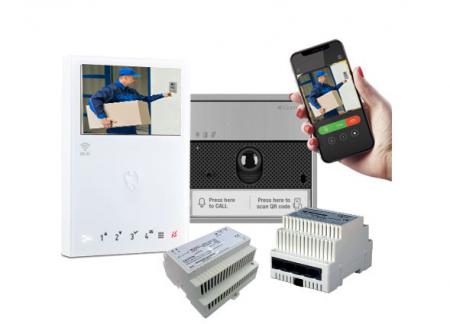 (815) 963-0495
OVER 40 YEARS OF EXPERIENCE
COMMERCIAL MOBILE PHONE INTERCOM SYSTEMS
INDUSTRIAL MOBILE PHONE INTERCOM SYSTEMS
CONTROL ACCESS WITH YOUR CELL PHONE
CONTROL ACCESS LOCALLY OR REMOTELY
DOOR UNLOCKING CAPIBILITY
NO OUTSIDE CONTRACTORS
PROFESSIONAL INSTALLATION
FREE ESTIMATES
5 STAR AFTER THE SALE SUPPORT
TRUST THE PROS SINCE 1905
DON'T SETTLE FOR AVERAGE
MORE REVIEWS THAN ANY OTHER SECURITY COMPANY IN THE AREA (SEE BELOW)


M. Spinello and Son Lock Safe Security Experts is the leader in commercial and industrail mobile phone audio video intercom systems, APP based intercom systems and mobile phone intercom entry systems for retail, office, commercial, school, medical, commercial, industrial, church, churches, institutional and municipal applications in Rockford IL, Loves Park IL, Machesney Park IL and surroudning areas in northern Illinois.
Our mobile phone intercom systems and mobile phone audio video intercom systems and intercom entry systems allow you to communicate with and see who is attempting to gain access to your facility on your cell phone, and then allows you to unlock the door with a push of a button on your cell phone as well. These mobile phone audio video intercom systems use an electric strike on the door that actually unlocks the once you push the unlock button on your phone APP. Take control of your business today with the latest mobile phone controlled audio video intercom technology in the industry!
Free and compatible with all modern devices, our mobile phone intercom system APP allows you to:
Receive calls from the entrance panel wherever you are
Review video recordings taken from the cameras in your system (including the entrance panel camera)
Review video messages recorded by visitors for missed calls
Call the internal devices in your system (video/audio entry phones)
Open gates, doors and switch on lights
The app works with PUSH notifications, this means that is only activated on receipt of a call and thereby saving power and data.
Install a mobile phone intercom system today and enjoy all the advantages of an entry phone in your pocket
These mobile phone controlled intercom systems are suitable for installation in hall commercial and industrial applications. Our mobile phone audio and video intercom systems can be used to answer calls directly from your smartphone/tablet, both locally and remotely from anywhere you have cell service. This commercial and industrial mobile phone controlled intercom equipment is manufactured to withstand the daily wear and tear of high usage applications.
M. Spinello and Son's mobile phone audio video intercom entry systems are available for single door applications, or multi door applications. These systems also come with an optional with desktop master capability for your office. Communciate with visitors, see visitors and unlock the door for visitors from anywhere in your facility with a 15 user capability. Serving Rockford, Loves Park, Machesney Park, IL and surrounding areas in northern Illinois since 1905.
Free on-site estimates
.
Call us today! (815) 963-0495