Residential Electronic Locks
Rockford IL Loves Park IL Machesney Park IL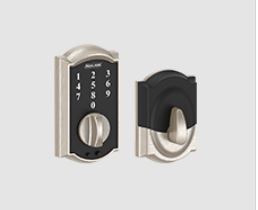 (815) 963-0495
GO KEYLESS ON YOUR HOME'S EXTERIOR LOCKS!
RESIDENTIAL ELECTRONIC LOCKS
RESIDENTIAL ELECTRONIC DEADBOLTS
RESIDENTIAL ELECTRONIC KEYPAD LOCKS
RESIDENTIAL ELECTRONIC ENTRANCE LOCKS
RESIDENTIAL KEYLESS ENTRY LOCKS
COMPLETE RESIDENTIAL LOCK UPGRADES AND REPLACEMENT
SAME DAY SERVICE / REPAIR / REPLACEMENT
PROFESSIONAL INSTALLATION / 43 YEARS OF EXPERIENCE
FULLY PROGRAMMED READY TO GO
FAST FREE ESTIMATES
5 STAR AFTER THE SALE SUPPORT
TRUST THE PROS SINCE 1905
MAKE SURE YOU ALWAYS HIRE A LICENSED SECURITY PROFESSIONAL IL. LICENSE # 192-000144



MORE 5 Star GOOGLE REVIEWS THAN ANY OTHER LOCAL LOCKSMITH


M. Spinello and Son Locksmiths Safe Security Experts is the leader in home and residential electronic locks, residential electronic deadbolts, residential electronic entrance entrance locks, residential keyless entry locks and residential electronic keypad locks and professional installation for your home in Rockford IL, Loves Park IL, Machesney Park IL and surrounding areas in northern Illinois and southern Wisconsin.
Our wide variety of battery powered residential electronic locks come in several different finishes or colors, may different styles and we can even provide complete new upgraded matching hardware for your home to enhance your home's outdated locks such as exterior front door thumblatch sets, interior closet or passage locks, interior privacy, interior bathroom and bedroom locks. Update and enhance your home's exterior and interior door lock hardware, eliminate the use of a key to enter your home and go keyless by using your desired pre-programmed code to enter your home.
These residential electronic locks and residential electronic keypad locks also come with a mechanical emergency bypass key in case you have an issue with any installed electronic lock to bypass the keypad and unlock the door. We provide professional installation of all residential electronic locks, complete programming and customer training!
Trust Rockford's #1 Locksmith and Security Team. The area's leader in residential electronic locks

(815) 963-0495