Automatic Gate Operators
Rockford IL Loves Park IL Machesney Park IL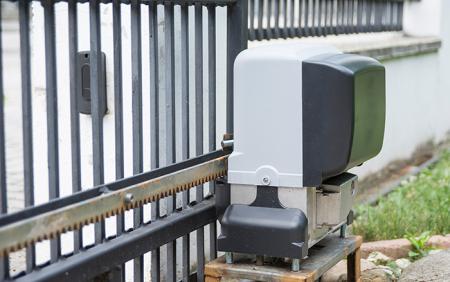 AUTOMATIC GATE OPERATORS
COMMERCIAL GATE OPERATORS
INDUSTRIAL GATE OPERATORS
RESIDENTIAL GATE OPERATORS
AUTOMATIC GATE OPERATOR KEYPADS
GATE OPERATOR INTERCOM EQUIPMENT
WIRELESS TRANSMITTERS FOR VEHICLES
PROFESSIONAL INSTALLATION
FREE ESTIMATES
5 STAR AFTER THE SALE SUPPORT
TRUST THE PROS SINCE 1905



M. Spinello and Son provides outdoor automatic gate operators for commercial and industrial customers in Rockford IL, Loves Park IL, Machesney Park IL, Belvidere IL, and surrounding areas in northern Illinois and southern Wisconsin.

We customize your outdoor automatic gate operator and automatic gate operator equipment to fit your company's outdoor vehicle traffic needs. We also provide wireless card access control equipment to operate the automatic gate operator. Use software to control outdoor gate traffic and set time zones and access groups for employees to limit access at specific times. These systems also provide reports of all employee traffic as well. We can add automatic gate operator HD video surveillance camera equipment as well

Distribute pushbutton wireless transmitters that attach to your employees car keys for each employee to unlock your automatic gate operator. These transmitters communicate with our outdoor wireless access control readers and allow employees to enter and exit the gate with a push of a button inside their vehicles. No need to install pedestals or additional cement or blacktop work. We can also integrate intercom system equipment allowing your receptionist to open your automatic gate operator from their desktop intercom equipment.
No other company provides this all in one solution for your automatic gate operator. We can provide either sliding, swinging or barrier arm automatic gate operators to control access to your facility. Contact us a free estimate for this all in one solution for your electronic outdoor gate swinging, sliding or barrier arm operator today.
Our weatherproof automatic gate operators withstand our roughest weather conditions and are completely weatherproof and blizzard proof!
Free Estimates.
Call us today! (815) 963-0495