Restricted Medeco Locks
Restricted Medeco Keys Systems Rockford IL Loves Park IL Machesney Park IL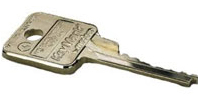 (815) 963-0495 SAME DAY SERVICE!

RESTRICTED MEDECO LOCKS AND KEYS NO OTHER LOCKSMITH CAN COPY
USE YOUR EXISTING LOCK HARWARE AND JUST INSTALL RESTRICTED CYLINDERS
PREVENT UNATHORIZED KEY DUPLICATION FOR GOOD
FREE ESTIMATES
COURTEOUS AND PROFESSIONAL TECHNICIANS
TRUST THE PROS SINCE 1905


M. Spinello and Son Lock Safe Security Experts offer Medeco Keymark restricted key systems . This key solution addresses the issue vital to maintaining security of a facility, the elimination of key duplication.
(815) 963-0495
By upgrading your facility's lock cylinders to Medeco restricted lock cylinders, you increase the level of security for your facility. These keys are licensed exclusively to M. Spinello & Son. That means no other locksmith, hardware store, home improvement store or any other company can duplicate the keys to your facility. We provide an initial key duplication authorization form when your new restricted locks have been installed and that is returned to us. If a person is not listed on the key duplication authorization form, we will not duplicate the restricted key. No phone calls, no discussion!
Most of our restricted key cylinders integrate with your existing lock hardware and make it very easy to convert your facility's traditional lock cylinders to our restricted key system.
Some of the applications for Medeco Keymark restricted keys and cylinders:
Fine homes, multi-family housing, apartments, apartment complexes, retail stores, office and commercial space, schools, universities, hospitals, commercial industrial, and municipal sites, and wherever key control and physical security are important concerns. Please contact us for a free on-site estimate. Restricted key systems protect your business, home, and rental property in Rockford IL, Loves Park IL, Machesney Park IL and surrounding areas in northern Illinois and southern Wisconsin.
(815) 963-0495