Master Key Systems
Rockford IL Loves Park IL Machesney Park IL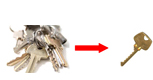 (815) 963-0495 SAME DAY SERVICE!

COMPUTERIZED MASTER KEY SYSTEMS
WE KEEP RECORDS OF YOUR MASTER SYSTEM FOR FUTURE RE-KEYING
MULTIPLE LEVEL MASTER SYSTEMS
KEYS STAMPED AND NUMBERED
FAST / FREE ESTIMATES
SAME DAY RESPONSE POLICY
TRUST THE PROS SINCE 1905


When it comes to commercial security needs, keys are the biggest security concern. How many keys we will need? How do we manage and distribute the keys? Should staff be able to access all areas of the building? What are our security risks? These are all questions that confront business owners, landlords, property managers, and facility managers when assessing their keying and security requirements. M. Spinello and Son Lock Safe Security Experts have the solution. We can create a custom master key system for you.
Free on-site estimates. Call us today! (815) 963-0495
A Master Key System is comprised of different levels of keys and a number of locks or lock cylinders that allow different groups or individual key holders to gain access to all or specifically designated areas of a building or buildings.
The benefit of a master key system is that you can control access to specific doors, allowing the appropriate people access to certain doors of your building. You can also eliminate carrying excessive amounts of keys for your facility.
Master keyed locks are more secure as our computer generated master key systems eliminate the chance of cross keying or the wrong key accidentally unlocking certain lock cylinders.
Individuals can have access to more doors using only a minimum number of keys. M. Spinello and Son's well planned master key system will to adapt to changing requirements and expansion of the system in the future.
A master key system or restricted master system, use security key blanks which are specifically designed keys which can only be obtained / copied only from M. Spinello and Son. Or we can attempt to re-key your facility's existing locks as well. Give us a call for a consultation and to get started with your master key system today. Serving Rockford, Loves Park, Machesney Park, IL and surrounding areas in northern Illinois since 1905.
(815) 963-0495