Deadbolt Installations
Rockford IL Loves Park IL Machesney Park IL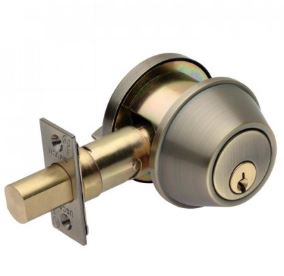 (815) 963-0495
SAME DAY SERVICE
NEW LOCK AND DEADBOLT INSTALLATIONS FOR HOME OR BUSINESS
WE MATCH THE COLORS AND TYPES OF EXISTING LOCKS
PROFESSIONAL DEADBOLT INSTALLATIONS
COURTEOUS AND KNOWLEDGEABLE LOCKSMITH TECHNICIANS
FREE ESTIMATES
SAME DAY RESPONSE FOR ANY ISSUES
LICENSED AND INSURED
TRUST THE PROS SINCE 1905


M. Spinello and Son Lock Safe Security Experts offer a complete line of locks and deadbolts for residential, commercial, rental, industrial and municipal applications. We provide
professional deadbolt installations and lock installation on wood and metal doors.
We can key your new deadbolts to your existing keys as well. We also provide electronic deadbolts as well.
Free on-site estimates
.
Call us today! (815) 963-0495.
Ask us how we can save you money by offering our patented and proven brands of locks and deadbolts without paying for the "name brand". Our competitors offer name brand locks without giving you another option. With huge savings and better warranties, why pay for the name?

Don't be deceived by other locksmiths advertising that if you lose your keys to your home or business, that you need to actually replace your deadbolt locks and your lock hardware.

At M. Spinello and Son Locksmith Safe Security Experts, we can come on-site and re-key your home or business locks without replacing them. Why go through the extra costs of buying new locks when we can re-key your existing locks and provide new keys for a fraction of the cost.

We provide the most honest and cost effective solutions for all of our residential and commercial customers since 1905 and we never oversell!
How does our locks compare with the home improvement store locks? Give us a call to learn more. Our locks fit any application. Serving Rockford IL, Loves Park IL, Machesney Park, IL and surrounding areas since in northern Illinois since 1905. We provide free on-site estimates. We are the expertds in deadbolt installations hand down!
(815) 963-0495