Now hiring: Locksmith / Security Technician with some experience (Automotive Locksmithing ). Great job security. Family owned business. PERC Card required. Opportunity to grow with the company. Please call 815-963-0495 today or use the CONTACT OUR HELP DESK .
Courteous and quick to get back to me. I had issues with a lost combination to a safe. They went out of their way to speak to the manufacturer to get the form for a replacement combination at no cost to me! It would have cost me much, much more for them to come out and crack it but they found me a cheaper alternative just to be HONEST. I'll definitely be using them anytime in the future!

Michael Small / Rockford, IL
Review Submitted July 21, 2016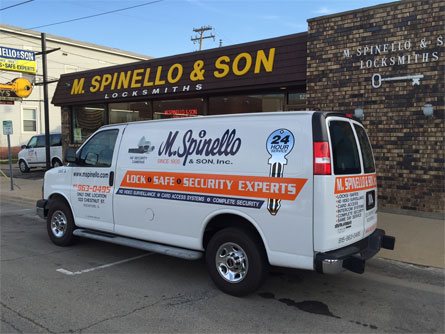 Rockford's Largest Locksmith & Security Company Providing HD Security Cameras, Video Surveillance, Card Access Systems and More.
M. Spinello and Son Locksmith Inc. Safe and Security Experts is Northern Illinois and Southern Wisconsin's largest lock, safe, and security company providing security solutions since 1905. Business Hours: Monday-Friday 8AM-5PM Phone: 815-963-0495

We are not connected or affiliated in any way with any other Spinello Lock Company located in Rockford, IL. Don't Get Fooled! Get The Original Spinello!



COMPARE OUR WEBSITE TO OUR COMPETITOR'S WEBSITES. WE OFFER THE MOST COMPREHENSIVE SERVICES IN THE SECURITY INDUSTRY. THERE IS NO COMPARISION! WE OFFER MORE PRODUCTS AND SERVICES WITH BETTER PRICING.



Located at our one and only location, downtown at 522 Chestnut St, in Rockford, IL., we are your complete security source. Founded in 1905 and with over 100 years of experience in the security industry, we provide trustworthy, reliable and professional lock, safe, and security products and services to residential, commercial, municipal, industrial, and institutional customers all at competitive prices.

No other area locksmith or security company has past experience in so many security services with 100% satisfaction with all past customers. Our comprehesive website is an indication of how versatile we are. You will not find another locksmith or security company's website, anywhere, with more information and more attention to detail. One Company, One Solution!

We also offer in the field automotive services for vehicle lock outs and lost key replacement as well as friendly assistance on all of our products and services available at our downtown storefront. Come and see our new HD security cameras we have installed at our 522 Chestnut St. Location.

Our family owned and locally operated business has been handed down through four generations. Serving Rockford, Loves Park, Machesney Park, and a 40 to 50 mile radius, our security technicians provide courteous, and professional service for any of your lock, safe or security needs.

We also provide lock re-keying and repair, new lock installation, master key systems, restricted key systems and key duplication. We also service, repair and install safes, door closers, intercom systems, keyless entry systems, electronic keypads, video surveillance systems, security cameras, HD security cameras, card access systems, electric strikes, power operated door closers, panic bar hardware, magnetic locks, fire exit devices, handicapped door openers and much more. You can deal with one vendor for all of your security needs. Trusted for over 100 years. Please call us for a free on-site estimate. Thanks for visiting our website!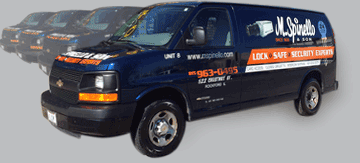 Rockford's Largest Mobile Locksmith Fleet Providing Professional On-Site Residential, Commercial, Industrial, Municipal, Institutional, Property Management, and Automotive Locksmith Service In Northern Illinois and Southern Wisconsin.
M. Spinello and Son operate six fully equipped mobile dispatched service vehicles with extensive inventory and equipment to service you on-site and do it right the first time. You are always guaranteed prompt, reliable, professional and courteous locksmith service from our security technicians along with the area most competitive prices.



We don't change our pricing depending on how busy we are like our competitors do! And we never make promises we can't keep.



Complete Security Systems, Video Surveillance Systems, IP Security Cameras, HD Security Cameras, Card Access Systems, Larger Master Systems, Restricted Key Systems, ADA Handicapped Door Operators and more are available for Rockford, Loves Park, Machesney Park, Roscoe, Rockton, South Beloit, Beloit WI, Durand, Winnebago, Pecatonica, Dakota, Freeport, Lena, Byron, Leaf River, Mt. Morris, Oregon, Polo, Stillman Valley, Rochelle, Dekalb, Dixon, Sterling, Cherry Valley, Belvidere, Genoa, Kingston, Kirkland, Caledonia, Popular Grove, Capron, Harvard, Crystal Lake, and surrounding areas
.
Serving all of Northern Illinois and Southern Wisconsin, Family Owned and Operated. Trusted Since 1905.
Call 815-963-0495 Today For All Of Your Security Needs



ALL SERVICE CALLS ADDRESSED ON THE SAME DAY!
M. Spinello and Son, Inc.
is not affiliated with any other Spinello Locksmith.
THERE IS ONLY ONE M. SPINELLO, ONE LOCATION

522 Chestnut Street
DON'T GET FOOLED! GET THE ORIGINAL SPINELLO! M. Spinello and Son, Inc. is not affiliated or connected with any other
Spinello lock Company
. We have only one location, Downtown at 522 Chestnut Street Rockford, IL 61102 Since 1905. Remember the M! Business Hours: Monday- Friday 8 AM - 5 PM. 815-963-0495